Querencia Community Bicycle Shop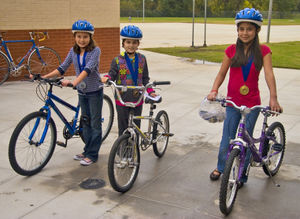 Querencia Community Bicycle Shop is a community bike shop in Denton, TX USA.
Mission Statement
QCBS is a an all-volunteer 501(c)(3) non-profit community bike shop dedicated to providing to Denton residents a healthy, affordable, environmentally friendly, and fun alternative to automotive transportation. We offer open access to the work space, tools, parts, and instructional resources for citizens to build, repair and maintain their own bicycle.
Querencia, though difficult to translate from its original spanish context, describes "a deep, quiet sense of inner well-being that comes from knowing a particular place of the earth… its history and its part in your history… where, whenever you return to it, your soul releases an inner sigh of recognition and relaxation." -Kirkpatrick Sale
Hours
Error creating thumbnail: File missing
Business Meetings are currently being held Sunday evenings at 8PM at Banter, off the square in Denton. We are also starting up internal shop days in order to get the inventory in order and to prepare for this summer's activities. Contact (info at qcbs dot org) or come to one of our meetings for more information!
Location
Email info@qcbs.org to ask for the location, since it's a temporarily hosted at a private residence. It's close to UNT, in the historic district, just off the Hickory St bike lane, and we have this sign in the front yard when shop is open.
Website