User:Angel
[Updated: July 2020]
Angel York learned to ride a bike in ~1989, joined the Bike Collectives Think Tank Listserv in 2009 and this wiki in 2011. Wiki Administrator with access to backend.
Bike Collectives volunteered or worked for include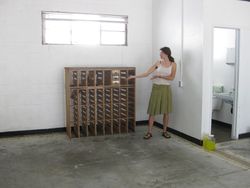 Bike Collectives visited include
Bike life outside of bike collectives
Participated in the World's Largest Bicycle Parade 2008 Attempt
Rode Whymcycles in a Picnic Day Parade, probably 2009?
Served on the City of Davis Bicycle Advisory Commission, 2008-2011
Occasional volunteer with Davis Bicycles!, 2009-2012
Worked the front desk @ Pedal Bike Tours, 2014
Volunteering at or for Sunday Parkways, 2014 -2016
Completed NACTO Urban Street Design Guide Training and volunteered at the BTA Active Transportation Summit, 2015
PSU Traffic and Transportation Course sponsored by PBOT, 2015
Bike Loud PDX Treasurer, 2015
Portland Summer Bike Count, 2014-2017. In 2014 I won "Board Certified" for most skateboarders counted at a single site. Their end-of-season awards are a super-entertaining read.
Organized Portsmouth Parkways, a Pedalpalooza ride in 2016 & 2017
Portlanders for Parking Reform (aka Portland Shoupistas) - Treasurer, 2016 - 2019
Portsmouth Neighborhoood Association - Transportation Chair, 2017
Co-authored Chocolatology, a book by bike-friendly Microcosm Publishing, published 2018
Go By Bike Bike Valet, 2016 - 2019
Active host on Warm Showers as of 2019.
Bike tours longer than a few days, all on recumbents
Florida to California with Aaron Wickstrom, 2005
Toronto to Iowa with Charlie DeTar, 2006
SLC to Sacramento with Meara McClenahan, 2006
Portland to Davis with Darin Wick, 2011
North Bay to Sacramento & back, then up to Portland, all with Darin Wick, 2018
Salt Harvest: Portland to Whalen Island County Campground and back, 2019
My friends on the wiki (add yourself!)
Bikes
Lightning Thunderbolt (2005~2008) - recumbent bike
Lightning Phantom (~2009-2012) - recumbent bike
Burley Taiko (2013-2019) - recumbent bike
Volae Expedition Pro (2020) - recumbent bike
Vision R82 (2018-2020 shared custody) - recumbent tandem bike
Flevotrike (2015-present shared custody) - moving bottom bracket recumbent trike
Comments
Tell me about your bike collective! And/or your experience with bikes! --Angel York (talk) 16:35, 8 March 2016 (PST)