Bicycle Collective Volunteer Manual
This is the Bicycle Collective Volunteer Manual (Utah), we are currently developing it, so it is not in use yet.
Last edited 2012
Mission Statement
The mission of the Salt Lake City Bicycle Collective is to promote cycling as an effective and sustainable form of transportation and as a cornerstone of a cleaner, healthier, and safer society. The Bicycle Collective provides refurbished bicycles and educational programs to the community, focusing on children and lower income households.
Accepting Donations
Bikes, Parts and Money
We accept all parts and bikes regardless of condition. So that we can keep track of donations, please use this process for everything that is donated:
Treat this as a purchase in the Quickbooks Point of Sale system. Select the following items to the transaction:

"Donation: Bikes"
"Donation: Parts"
"Donation: Money"
"Tax ID 81-0569811"

Adjust the quantities but DO NOT set values for bikes or parts -- that is between the donor and the IRS to determine.
Ask the donor if they want a donation receipt, if they do select "Save and Print" and give them the receipt. If not, just click "Save."
If they donated a bike, place a yellow "For Sale As-Is" tag on the bike with a blank "Repair" tag.
Tax Exempt Purchases
As a tax-exempt organization -- we don't pay tax on most of the things we buy. When purchasing things for the Collective, provide the businesses with a completed and signed TC-721 form. We are a "Religious or Charitable Institution" and our Sales Tax Excemption No. is "12266870-002-STC".
NOTE: TC-721 forms need to be signed by an officer of the the SLC Bicycle Collective.
Reserving Bikes / Project Bikes
All donated bikes are for sale at nominal cost, but priority of the bikes goes to our programs. Each bike or frame should have a (yellow) Bike Information Sheet. The backside of the (yellow) Bike Information Sheets contains a place to reserve the bike.
Reserved bikes should have a name, phone number and a non-expired pickup date on them. If they lack any one of these three things -- it is not considered reserved.
To be fair to everyone, pickup dates should never be more than two weeks from the current day. The key of a pickup date is to show that the person reserving it is still interested in the bike. They also can extend the pickup date, unless it has already expired, again the key is to show they haven't abandoned their project.
"Time is money." -Benjamin Franklin
Our community bike shop works also uses the work trade concept. Simply ask the core volunteer what you would like to purchase, and the two of you will determine how many volunteer hours it would take to earn that item.
Donation Life Cycle
ALL donated bikes and parts should be logged in the Quickbooks Point of Sale.
Shop Manager evaluates all bikes and parts and tags them appropriately.
Youth Programs
Earn-a-Bike
Trips for Kids
Rides go from April until ????
Bike Rodeos
Given the low ROI, lack of child retention, and lack of necessary learning repetition -- we don't do them. So we re-direct them to the Utah Department of Health Violence and Injury prevention division.
Bikes
Bicycle Licensing
If a donated bike's estimated replacement parts exceed the value of the bike (time is volunteered) or there is damage to the frame the bike will PARTED OUT. Do not waste stickers on these bikes.
If a donated bike is deemed fixable by someone on the Key List or Staff, then it is to be given a red Salt Lake County Bicycle License sticker, and entered into the Point of Sale (POS) system using that License number.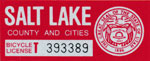 Legally this must be done for any new or used bike sold in Salt Lake County. Individuals can also go to the fire department.
Stickers cost the Collective (and other businesses) 50 cents each, and can be purchased in increments of 100 from the Business Licenses Division of the Salt Lake City Treasurer's office (ask for Michael Moore) however they cannot be re-sold for more than $2 each.
City & County Building
Business Licenses
451 South State, Room 225/228
Salt Lake City, Utah
801-535-6644

Instead of filling out the paper booklet that comes with the stickers, use our online form: http://volunteer.slcbikecollective.org/bicycle_registration.php
So that the form cannot be abused, there is a password required to submit, contact Jonathan Morrison for access.
All bikes are for nominal sale, but reservation priority goes first and foremost to our various programs. WE DO NOT BUY BIKES OR TRADE BIKES FROM ANYONE.
Make sure you mark how much the bike was sold for on the (yellow) Bike Information Sheet and put it in the drawer with the other yellow sheets. If the purchaser is asking for a low-income discount, he or she must fill out an eligibility form.
These are just guidelines to keep everyone consistent, ultimately the price is your judgment call.
Department Store Bikes: $20-40**
Mountain Bikes: $50-$100** nicer bikes may be priced more.
Bike Frames: $20 and up** cruiser and road bike frames are more, generally speaking.
Road / Cruiser Bikes: $100 and up**.
Nicer Bikes or Parts: These are sold on E-bay, Craigslist or reserved for our key list volunteers. Key list volunteers can view those items on the eBay Items google doc.
Random Used Parts: $1-$10
Wheels: $10 and up
New Parts: See New Parts Price List posted on the glass display case AND the stand the register computer is on. The Shop Manager will update this every time an order comes in.
or $5 per volunteer hour equivalent.
See Bike Tags: Consignment
We maintain a strict No Trades policy. We do this to remove the incentive for laundering stolen bikes at our shop. If someone trades a stolen bike to your shop, it can lead to legal problems for the person who ends up with the bike -- and that just makes us look bad.
So that we don't have to descriminate against any one person or group of people we have made this a blanket policy so that it applies to everyone.
Free Bikes
We offer free bikes in conjunction with other local charitable causes. Those organizations contact us, and we set up a referal system. Anyone listed on that referal system is given a bike and a helmet.
Bike Tags
We use a custom vinyl pocket that holds three 3x5 index cards. Old spokes are used to hang the vinyl pockets. More vinyl pockets can be ordered from www.rabcoproducts.com (Special Order #2473 vinyl holder).
This means the bike has been checked over by a volunteer. Since we don't have a master mechanic or formal process, it does NOT mean the bike is in 100% working order. Until then, re-check every "Green: For Sale" bike before it goes out the door.
Put this tag on every bike, except for Department Store Bikes, that comes in the door. This tag means no one has looked at it yet.
Anyone can put up to a 2 week hold on a bike. Two weeks is the max. If they call in to extend the time, we will change the date on the tag for them. If they come in to the collective they can change the date, but not more than two weeks out from the current date.
We do not call on bikes anymore. If a tag is expired, immediately replace it with a Yellow: For Sale As Is tag or a Green: For Sale tag.
It is highly recommended that no-one leaves personal property at the Community Bike Shop and we are not liable for any theft or vandalism.
Bikes that have this tag are:
Reserved for goodwill organizations like the IRC.
Part of our Earn-a-Bike or Trips for Kids program.
Personal Property: Volunteer Bikes or Visitor Bikes.
Nicer bikes that may potentially put on craigslist or eBay.
WE DO NOT DO THIS
Memberships
Volunteers
There are 3 levels of volunteer.
Core Volunteer/Core mechanics
They are responsible for a shift of 4 hours/week, they help to maintain the space. One monthly meeting is mandatory.
Privileges:
Candidates for keys (access to the shop in off hours). Candidates are voted on by ????
Getting parts at 10% over wholesale
Cheap to free used parts (use discretion and don't be a hog).
Committed volunteers
Must work at least 8 hours a month, either as an apprentice/aid to the core mechanics on a weekly basis, or by doing odd tasks from the chore list regularly. After volunteering consistently for one full month, they are entitled to the following privileges: New parts at 35% over Wholesale and cheap to free parts (at the discretion of the shift mechanic), and membership privileges. The meeting may decide to offer keys to a long-term committed volunteer.
Access to the office and mechanics only areas is granted by the mechanic on duty, and should not be assumed.
Impromptu volunteers
They are people who ask if they can do some work for that day, usually as a trade for shop use/assistance, and necessary used parts (and occasionally a new tube). The volunteer is referred to a list of chores, and the value is determined by the mechanic.
Key Policy
Smart Card access to the Community Bike Shop is an awardable and revocable privilege and shouldn't be taken lightly. The general goal of the following rules is to make those with access to the shop more accountable; to regulate overall access to the shop and all the physical assets of the organization; and to reward volunteers who further the overall goals of the Salt Lake City Bicycle Collective.
We have changed the standard lock and converted to a keyless entry smart card system. This way we don't have to worry about lost keys, and a log is kept for accountability's sake.
Earning a Smart Card
Potential Key List members will be reviewed monthly at the mandatory key list meeting.
Requirements:
You must have 40 hours of volunteering (Velorutionary Membership Level Equivalent)
You must be sponsored by someone currently on the Key List.
You must be elected by the rest of the key list by silent vote.
You must provide your own 125 kHz HID Proximity Smart Card (available at most locksmiths) OR we can provide smart cards for a $10 fully refundable deposit. Jonathan Morrison sets up the smart cards.
Exceptions:
Members of the Board of Directors may request a smart card.
Specific program coordinators and volunteers may be issued a limited access smart cards (BikeEd, Earn-A-Bike, and Continuing Ed Courses)
In addition to the smart card system there will be 3 regular backup keys in existence, one for Executive Director, one for the property owner, and one in the Collective's safety deposit box. This backup will be used in the event the electronic system fails.
Staying on the Key List
Smart Card access will be reviewed monthly at the mandatory key list meeting (scheduled at previous key list meeting). Requirements may be changed at those meetings.
Mandatory Requirements:
Volunteer for two open shop nights per month.
Attend the monthly key list meeting (scheduled at previous key list meeting).
Exceptions:
Successful plea at a key list meeting. If you know can't meet the mandatory requirements, let the key list know before it happens.
Losing Smart Card Privileges
If you lose your smart card privileges, you are entitled to an explanation. Here are common reasons:
Failure to meet monthly volunteer requirements.
Failure to attend the required monthly meeting without prior notification.
Abuse or misuse of shop and/or shop resources.
Inappropriate representation of the Collective to shop patrons and/or volunteers.
Working on personal projects during open shop hours instead of helping others. That is why you have off hours shop use.
Lending keys to individuals not on the key list without prior consent from key list members.
Taking shop supplies including, but not limited to, tools, grease, cables, housing, chain lube, new parts, etc.,... Order them using your shop employee rate!
Borrowing tools without notifying the key list or not returning them before they are needed at the shop.
Responsibilities
Help shop patrons and direct other volunteers.
Follow and set an example of the Shop Rules.
Oversee and ensure shop clean up, and that all tools are back in their place.
Money handling.
Benefits
To be a member of the key list is a lot of responsibility, here are some incentives:
For every full 4 hour volunteer shift a key list member will be entered into a yearly raffle.
Shop employee rate of cost + 10% for personal use only on our distributor accounts.
Off hour shop use. Just make sure you leave it better than you found it and you pay for any new parts or supplies.
Key List Meetings
Key List Meetings are mandatory, if you can't attend please provide prior notice. It is OK to miss a meeting, just let us know before hand -- otherwise we might think you are flakey. Dates and times for Key List meetings are scheduled at the prior key list meeting.
Agenda Items:
Determine who is taking the meeting minutes, they are also responsible for emailing the minutes to the Key List email list.
Date and time are to be determined for next month's mandatory key list meeting.
Discussion of current shop projects for uniformity and clarity.
Voting on new and existing key list members.
Update the Key List members on the Google Spreadsheet. Only certain key list members have access to the spreadsheet.
Add or Remove members from the Key List email list. Only certain key list members have administrator access to the email list.
Current issue discussion.
Project proposals.
Schedule sign ups.
Off Hour Shop Use
Key List Members have the ability to use the shop during off-hours. The conditions of doing so are:
Leave it better than you found it. If using the shop in off-hours, make sure it is clean and clear of projects at least 15 minutes before a shift or scheduled workshop/class.
Do not advertise that the shop is open. If you choose to help people that wander in, be clear that this is not a time we are regularly open.
Placing orders
If you are a Keylist member and you are unsure how to place an order, contact Jonathan Morrison.
You must be a Keylist member.
Set up a Google Docs account, it is easier if you have a Gmail account. Let Jonathan Morrison know and he will share Distributor Orders - Current and Distributor Orders - Past Google Doc Spreadsheets with you.
Enter your parts requests in Distributor Orders - Current, notice every distributor has their own sheet.
If your order is urgent, let Jonathan Morrison know.
When orders get placed, they will be moved to Distributor Orders - Past.
Prices in print catalogs change, what is owed will be based on the distributor's receipt.
Don't pay in cash if possible, use Google Checkout or Paypal so that there is a record and receipt, this just keeps us all honest.
Note: If your parts come in, never take them before you pay. Again, this just keeps us all honest, as it can be easy to forget. If it turns out you can't afford it, we can still send it back or sell it.
We do two types of ordering:
Non-advertised (aside from word of mouth) shop orders for essential items such as tires, chains, locks, lights, and some fixed gear items that don't compete with the Local Bike Shop (LBS)
Cost + 10% privilege for Keylist members.
Ordering we do not do:
Special orders for anyone but Keylist members. Please don't ask us to undercut the LBS as we have great relationships with them that aren't worth destroying for you to say a few bucks. If you ask, we will just redirect you to the LBS anyway.
Complete Bikes. Besides putting us in competition with our friendly LBS, it doesn't fit our mission of reduce, reuse and recycle.
Keylist members ordering for anyone besides themselves. Cost + 10% is a privilege, abuse it and lose it.
Valet Bicycle Parking is an easy way to rack up some volunteer hours. You simply set up a tent at an event, and when people bring you bikes to watch, you give them one side of a raffle ticket and wedge the other one somewhere on their bike (like in between two spokes). You should know about the different programs that the Salt Lake City Bicycle Collective offers -- people will ask. Also try and promote the programs as people are leaving. Say something simple as, "Have you heard of the Bicycle Collective before?"
Supplies
EZ-UP Tent
Folding Table
Table Cloth
2 or 3 Folding Chairs
Banners (SLC Bike Collective & Valet Bike Parking)
Zip ties and/or Elastic Tie Downs
Clip Board
Pens
Double Roll of Raffle Tickets
Cash Box
Brochure Racks
T-shirts
Hand outs
Shop Rules
These rules should be displayed in the front (east end) of the shop near the light switches.
Opening
The shop door will stay open from 5-9PM, on Mondays, Tuesdays, and Thursdays,and 1-5 PM on Saturdays, once someone in the "first in" list swipes their smart card. It will automatically lock itself at 9PM (M/T/Th)or 5 PM (Sa).
Count the register and mark it in the book.
Make sure the benches are clean and the tools are put away.
Verify no tools are missing.
Check the answering machine and write down or email any notes.
Put on an apron that says "VOLUNTEER" on it.
Grab the cordless phone and keep it on you.
Turn on the heater or swamp cooler as necessary.
Change the door sign to "OPEN"
Closing
Make sure everyone is gone, check the bathroom.
Count the register and mark it in the book.
Make sure the benches are clean and the tools are put away.
Verify no tools are missing.
Turn off the swamp cooler. Switch is to the left of the refrigerator.
Turn off the heater. This is an easy one to forget if it is dormant when you leave. Switch is above the desk in the back.
Make sure the cordless phone is in the charger.
Turn off all the lights. Switches are in the front, to the left of the shelves in the back, in the bathroom, and a pull string in the caged area.
Change the door sign to "CLOSED"
Preventing Shop Theft with Kids
Not that adults aren't a problem, but we have seen some trends with kids that aren't interested in volunteering, but aren't interested in paying for a bike either.
What to look for:
They wait until it is really busy, and take a bike out for a test drive and hide it around the back of the building (or somewhere else). Then they will walk back in (or they might not come back at all) only to walk back out a little while later.
Another thing they will do is take off the existing bike tags and put their own on it, only to come back a week later (when no one remembers or there are new faces) and take it. They will also ask every volunteer they can until someone gives them a better answer.
What to do:
Tag or not, when asked questions about earning or taking a bike by a kid (<18 yrs. old), refer all of them to Krista or Jonathan. If we aren't there or in cell phone range, tell them they will just have to wait -- resist all cons. That way we can keep the answers consistent.
When they walk IN count the number of kids and the number of bikes they came in with, if you can remember what their bikes look like, great.
Do not let them test ride a bike outside without the supervision of an adult.
Metal
Put metal outside of the garage door (small parts in a cardboard box) -- metal scrapers check there regularly. Due to the currently low value of all metals, it isn't worth our time to recycle it ourselves.
Unfortunately we barely have enough room for bikes let alone scrap metal inside the building, so we have to tell Artists and the like to fend for themselves with the scrappers outside.
We don't get paid to recycle tubes or tires. We have tried to get people like Green Guru to pay for shipping, but as it turns out the cheapest way is to recycle them ourselves. Store rubber tubes and tires in the big black box labeled "Recycle Rubber Tires & Tubes Here" which is right next to the trash and recycling cans.
When the black box is full, take used tires and tubes to:
Utah Tire Recyclers (801-364-7900)
1398 Beck St.
Salt Lake City, UT 84116-1209

We have a special arrangement with the owner so it doesn't cost us anything.
Shop Communications
Wireless
Since you won't be able to get to this page if the wireless is down, it should be printed and posted next to the DSL modem (white) and the wireless router (blue). Brad's business card is also taped to the DSL modem (white).
Troubleshooting:
Unplug the power from both the DSL modem (white) and the wireless router (blue).
Wait 15 seconds.
Plug the power back into the DSL modem (white).
Wait until DSL modem (white) boots up, the power and internet lights should be on. If the internet light doesn't come on see the Contacts below.
Plug the power back into the wireless router (blue).
Wait until the wireless router (blue) boots up.
Check connectivity with a computer.
This should fix 90% of the issues, but if problems persist start contacting the companies below:
Contacts:
Qwest DSL Support (800-247-7285) - if the internet light is not on.
XMission (801-539-0852) controls the hotspot and their employee, Brad Mertz, set it up.
Phone
Manual for the AT&T Model #CL82659 Six Handset Answering System.
Default Message:
"You have called 801-FAT-BIKE home of the Salt Lake City Bicycle Collective. Online at www dot slc bike collective dot org. We accept bike and part donations whenever our community bike shop is open. Excluding national holidays, Do-It-Yourself Hours are Tuesday through Thursday from five thirty until nine pm as well as Saturdays from noon until seven pm. A DIY Night for Ladies only is on first Wednesday of the month from five thirty until nine pm. Volunteers are welcome during the day from ten AM until four PM by appointment only. Or just stop by any Monday night from five thirty to nine pm, the free park tool school class starts at 6pm. Our address is 2312 South on West Temple. For questions or more information about our other programs such as Earn-a-Bike, Trips-for-Kids or Valet Bike Parking please leave your name, number or email and we will get back to you shortly."
Printer/Copier/Fax
Manual for the Brother 8670DN Multi-function Center. We own two of these, one at the community bike shop in SLC the other is at the community bike shop in Ogden.
Manual for the HP LaserJet 5100. Which is located at the Community Bike Shop in SLC
Instead of paying for a separate phone line the fax machine uses our regular line but is set up to only pick up a on the distinctive ring: short-long-short.
Note: Because they use the same phone line, you can't make a call while the fax machine is receiving or sending a message. Likewise, you can't make or receive a fax while someone is on the phone.
Stereo
Currently we have it hooked up to the register computer and just stream audio from sites like Pandora Radio. Make sure the Selector is set to Phono and the Tape Monitor is pressed in for Play Back.
Shop Supplies
Technology
Email Lists
Website
Emergency Contacts
John Delvie (801-278-6230) of Delvie Plastics is the property owner.
Jonathan Morrison (801-688-0183) is the SLC Bicycle Collective's Executive Director.
Infinias (866-496-5783) is the tech support line for our smart card door system.
Mark at Superior Water & Air (801-706-8904) for problems with the cooler. FYI, there is a child safety button for the hot water.
Bill Delvie (801-277-7995) owns the office to the north door, sometimes his alarm goes off.
Labor Finders (801-487-6004) rents the office to the south, sometimes UPS gives them our packages.
Graffiti removal in South Salt Lake (801-972-7885, 801-483-6045), they will need your: Name, 801-328-2453, Address, "Business", "Painted Brick"
References